Trailer Restraint System - What if the trailer flips over?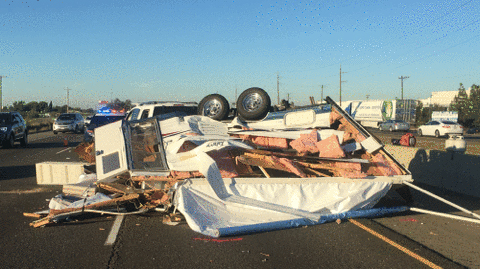 Coming into the final AFM round, our rider Joey Pascarella and our 2016 ZX10 were in the points lead for the FP and over all #1 plate. As my day job is with Kawasaki, it was very important to me on multiple levels to win the championship not to mention the contingency money on the line for Joey and Jim.
The bike owner, Jim Deehan (also the man who won the first road race for Kawasaki USA in 1966) picked up the bikes with a borrowed toy hauler and headed from my garage in Roseville, CA to Buttonwillow, CA to get ready for the race weekend. Along the way, he encountered a close call with a semi trailer that sent the toy hauler in to a uncontrollable wobble which eventually over rolled the truck and trailer. Luckily no one was hurt, a miracle in itself on a very busy I5.
After several hours of clean up and towing and much dispute with the tow yard and Cal Trans, Jim and his friend Gio were able to get the bikes out of the trailer and load them up to bring them back to my garage to see if we could do anything to get them ready to go again for the race weekend and to try to earn the title.
The bikes got back to me late that Thursday night and everyone decided to get a good nights sleep and start to rebuild first thing in the AM since we didn't need to be on track until Saturday.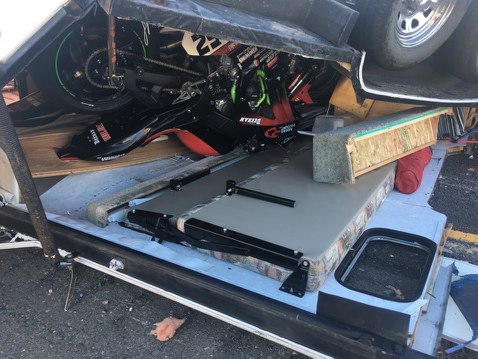 The bikes were secured in the trailer with only a Pit Bull restraint on each one. They were inverted in the trailer for around 4 hours. Joey's bike (pictured) never moved other than the front end flopping up and down as the trailer's roof crunched against it. Lenny Hale's (another 2016 ZX10) bike eventually came free not from the Pit Bull, but as the toy hauler floor eventually tore open. In both cases, the damage was significantly reduced to merely cosmetic, we didn't even break a lever.
As my friend and colleague Mike Canfield (also JD Beach's crewchief) stood and looked at the bikes, we were amazed at how well they came out of such a crash and after assessing the damage, it was determined that we had enough parts to get not one, but both bikes back on the track. Honestly, getting all the oil out of the airboxes, intakes, and combustion chambers to prevent hydrolock was the biggest issue. When all was said and done, the bikes were back on the road to race by about 4 pm that day.
Joey went out and qualified P2, behind Bryce Prince, and then the next day, went on to defeat Bryce and Steve Rapp in an exciting FP race wrapping up the championship. The icing on the cake was when Lenny won his last race of the day, Open Superbike beating Cory Call.
While we had another bike to borrow, we hoped not to knowing that Joey and the bike would have to be at the top of their game to win this thing. Your stands helped us do that! Upside down in a bad interstate crash one day, winning 36 hours later.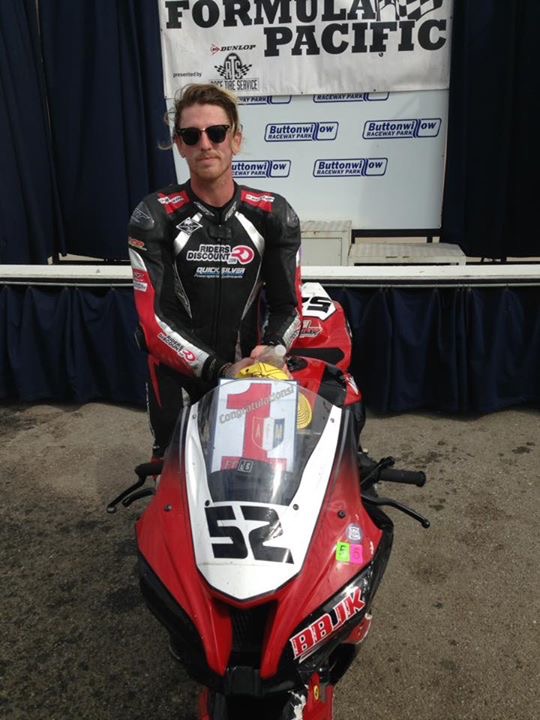 I have worked for several professional teams over the past 5 years, many that utilize your stands and trailer restraints, and I have always liked how convenient they made loading at the end of a long hot weekend. . I also have always really liked how they saved my gas forks, fork seals, and everything else that goes with not cranking down the front. I knew they were strong and secure, but I never believed they could hold a 400 lb motorcycle through a crash like this. They absolutely saved us thousands of dollars in damage. With every championship you have to have some luck. We got some of that on this crash, but had these bikes been secured by any other method, our championship would have been almost out of reach. Thank you! I have been in this industry for almost 20 years and have hauled a lot of motorcycles and have seen many more tied down, people get very creative, but I simply wouldn't recommend anything else to protect a riders investment.
Jesse Koeller
District Manager
Kawasaki Motors Corp, USA