Motorcycle Stands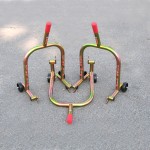 Since 1994, the best value in motorcycle stands has been Pit Bull. We didn't set out to build a motorcycle stand for a certain price. We built the best motorcycle stand and then figured out how much it needed to sell for given the cost to produce the stand. Unmatched quality backed by top level customer service.
Refine Search
Showing 1 to 8 of 45 (6 Pages)
There's a variety of motorcycles out there so there's no one stand that can lift them all. The most versatile motorcycle stand is the SS Rear Stand because it allows you to lift most modern sport bikes with dual-sided swingarms. There are many other options when it comes to motorcycle rear stands depending on what type of motorcycle you have. Check out the video below to see a comparison of the traditional rear stand vs. the forward handle rear stand.
One Armed Rear Stands are designed to accommodate various single sided swingarm motorcycles including Ducati, Triumph, BMW, and other motorcycles. They capture the bike from the inside of the hollow hub found on these motorcycles. It's important to note that when you install sliders through the hub of your single sided swingarm motorcycle, a pin designed to fit that hub will no longer fit.
Front stands tend to come in one of two forms: models that lift from under the forks OR models that lift from under the steering stem. While the primary reason to lift from the stem would be to be able to remove the forks, many riders who will never remove their own forks still use a Headlift Stand. Some riders like the fact that lifting from the stem takes the load off their suspension during long term storage. Still others prefer to have the pin in the hole which makes the bike harder to knock over if they have active kids running through the garage.
Why Pit Bull?
Every motorcycle stand is not the same. There are a lot of imitators but ask yourself: What they are imitating? Did they merely imitate the size and shape of a Pit Bull motorcycle stand? What about the hand-tig welding? How much product testing have they done to ensure that they're using the proper materials and product design? How do you get in contact with the stand manufacturer? How many stories do you hear from your friends about a 10 year old motorcycle stand made by another manufacturer still being as solid as they day they bought it? Not to mention, have you noticed how many motorcycle stands claim to fit all bikes but then say "you might have to remove the fairing on a GSXR 600, Yamaha R6, or CBR1000RR"? Pit Bull does actual R&D to make sure that we fit modern sport bikes(like the new Kawasaki H2) that the other guys simply don't bother with. Pit Bull's distinctive gold and red colors are found only on Pit Bull stands and help identify the strongest, longest lasting stands on the market.
We could point to countless professional racers who have trusted our products over the years, but that's not nearly as impressive as the sheer number of people that come up to us at trade shows saying they have had one of our stands since the 1990's and it's still going strong. Simply put, our lifetime warranty is exactly what it says it is. It's not prorated. It's not limited.
"A Pit Bull motorcycle stand will outlast your motorcycle" - Kevin Schwantz, Motorcycle Road Racing Legend and 1993 FIM RoadRacing Champion