Trailer Restraints
The Pit Bull Trailer Restraint System redefined how motorcycles are transported. The TRS holds your bike from its rear axle and allows both tires to rest on the floor of the trailer or transport vehicle. Our patented system offers the following three advantages:
There are no straps holding the bike down. Thus minimizing space used in the trailer and eliminating damage caused by ratchet straps.
The motorcycle rests on the trailer floor with no added force on the suspension. This means no more blown fork seals caused by heavy strap tension. The bike is held securely even with a flat tire!
This is the quickest, easiest system available for loading and unloading your motorcycle for transportation. One person can easily roll the bike into place until it is captured by the restraint and locked in place.
Each Trailer Restraint System is sold complete with motorcycle-specific mounting pins (except our frame-only and everything-but-the-pins kits) to match your motorcycle's make, model and year; floor mounting hardware, and even a bungee cord to secure the TRS frame when moving the bike while still attached.
Wanna see what happens if your trailer flips over?
---
Refine Search
Showing 1 to 4 of 4 (1 Pages)
The Birth of the Trailer Restraint System
Pit Bull had been building motorcycle stands for nearly a decade when long-time friend and AMA crew chief Keith Perry asked us to build him a motorcycle transport stand like he had seen in the Moto GP paddocks in 2003. He gave us a good idea of what he was after and Charlie V designed something for the Team Hammer race team's transport. While functional, Charlie V was not satisfied with the overall design of the product so it was not brought to market.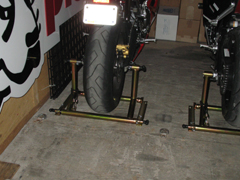 Fast forward to January 2007. Charlie V is driving back from a motorcycle show and thinking about a better way to build a Trailer Restraint System that will be secure and yet still easy to use. By the time he arrives at Pit Bull, he has designed a new motorcycle transport stand in his head. By July we are in full production and introduce the new Pit Bull Trailer Restraint at the Laguna Seca Moto GP round. One of the very first customers called to complain because he was told that our strapless transport system would save him time. He said that at his first track event, he was asked to demonstrate the system over and over again and it took him forever before the other riders would let him leave. There was simply nothing like it on the market! Pit Bull's Trailer Restraint was granted a U.S. Patent for it's innovative concept and our motorcycle trailer restraint system has been the industry standard ever since!