Spring is Coming
It's time to get the bikes out and get ready to ride again. Check out our Motorcycle Stands or try our "What bike and we help you with" search function to see which stands are right for your bike. Don't see your bike listed? Contact us or start a chat and we'll be glad to go over your options with you.

  Featured Products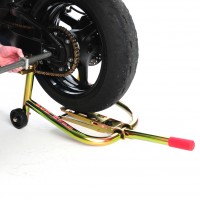 Pit Bull's new Pit Crew Tire Wedge is a height-adjustable device that allows one person to easily align and steady motorcycle wheels so axles are easy to remove and install.
The Tire Wedge can be used with most Pit Bull front and rear stands made in the last 20 YEARS. It quickly attaches without hardware using a solid press fit. Once in place below a tire, height can be set between 0.75 to 4.9 inches with a twist of its adjustment knob. This positioning allows wheel spacers and brake-caliper mounts to be perfectly lined up so axles slide in and out without binding.
The first of five innovative new products introduced by Pit Bull in 2015, the Pit Crew Tire Wedge makes changing tires easier than ever. Made from steel and zinc-plated to fend off the elements, like the company's legendary stands, it's built to outlast any motorcycle and comes with a lifetime warranty. Designed and manufactured in America, the Pit Crew Tire Wedge is available exclusively direct from Pit Bull at this time.
Defining Features
Allows axles to quickly slide in and out without binding
Quickly aligns axle spacers and brake-caliper mounts
Adjustable height: 0.75 to 4.9 inches
For use with Pit Bull stands manufactured in the last 20 YEARS
Quick-release design attaches without hardware
Zinc plated to resist the elements
Made in the USA
Lifetime warranty
NOTE:
Will not work on Forward Handle Rear Stands or Single Sided Swingarm Stands. Will also not work with our original Standard Front Stand or when using the Forklift Converter(F0015-002).
NOTE:
Stand in photo is for demonstrating how the product works. Stand not included when you purchase the Pit Crew Tire Wedge.
S1000RR/HP4/Panigale Owners
: You will need two
929 Shims
to use the Tire Wedge under the stock tire of your BMW or Ducati Panigale 899/959. Some aftermarket tires may not require the shims.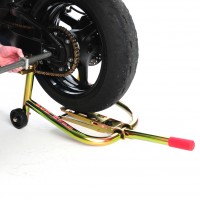 Quick View