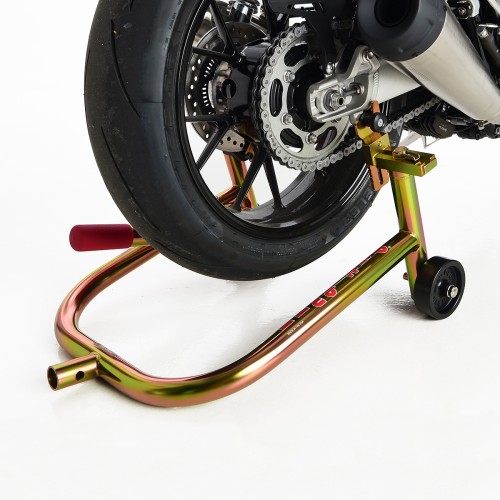 ---
Fully Adjustable Rear, Motorcycle Stand (Spooled)
$219.95
---
Product Code: F0082A-000
Availability:

In Stock Ships within 1-2 business days

Instructions: F0082A-000.pdf
---
Fully Adjustable Spooled Rear (height and width adjustable for maximum versatility)
As of June 2023, this stand features height adjustment range of 10.75" - 13.75", width adjustment remains the same.
2008-May 2023 - height adjustment 11.75" - 14.75", (on all versions)width adjustment 9.625" - 15.25"
This stand was designed for use with late model bikes that have low hanging stock rear fenders and have not had a fender eliminator kit installed(like the 2nd and 3rd gen Hayabusa, ZX14, ZX14R, Ninja 1000). This stand is also ideal for Kawasaki ZRX motorcycles to give better leverage when lifting than you would get with a traditional stand. The '16+ Triumph Thruxton 1200 also benefits from using this stand due to a significant increase in leverage.

This stand has height AND width adjustability and is available exclusively with a removable handle. If you would like to order the support plates to lift non-spooled bikes, you can find those here: pit-bull.com?model=f0042-001
(June 2023-forward) Height adjustable: 10.75" - 13.75"
(June 2023-forward) Width adjustable: 9.625" - 15.25"
To achieve the lowest height setting, flip over the "L" shaped brackets that are held to the stand via the large bolt and thumb adjuster. Then remove, flip, and reinstall the "V" shaped Spooled Support Plates to those "L" shaped brackets at the lowest possible height. This is necessary on some models just to clear the rear fender. Lower support height increases leverage and makes it easier to lift the bike as well. Just make sure the height setting you use, does get the bike off the ground
Older Version(2008 - May 2023) Height adjustable: 11.75" - 14.75"
Older Version(2008 - May 2023) Width adjustable: 9.625" - 15.25"
Stand was redesigned in 2023 to better suit the rear fender of the '23 Ninja 1000SX. Stand must be at lowest setting(including flipping the brackets over) to clear fender on the newer Ninja 1000 models.
Related Products