Free Shipping
Contiguous U.S. Only. Applies to retail orders over $150 being shipped to your physical address. Additional charges may apply for APO/FPO boxes.
  Featured Products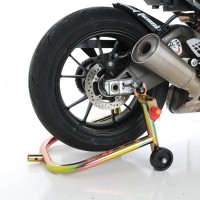 SS Rear, Motorcycle Stand
The SS Rear Stand can be used as a Standard or Spooled Rear Stand by flipping the top supports over. It is width adjustable to fit most modern sport bikes. The Pit Bull rear motorcycle stand was designed as a modular platform which allows SS, Standard, 999, and GP top supports to be used interchangeably. Sold complete with top supports. Spools sold separately.
NOTE:
Use a
Busa Rear
for '09 & up Busa as well as Ninja 1000 or ZX14R models with stock fender as that stand will clear the low hanging rear fender on these bikes. If you have a fender eliminator installed on those bikes, you may use this motorcycle stand on any of those bikes.
NOTE:
Removable handles are optional. Please choose the handle of choice after adding the product to your basket.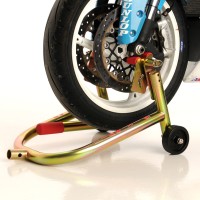 Hybrid Forklift - Motorcycle Front Stand
Our Hybrid Forklift Stand is based upon a modular design and can be easily converted to lift from the lower triple tree instead of the lower forks with the addition of hybrid swivels (related items below). The Hybrid Forklift Front features 7 indexable height adjustments, which is very convenient and offers increased leverage at the lower settings.
The Hybrid Headlift is available with an optional removable handle or you can choose the extended removable handle for maximum leverage.

NOTE: The Forklift Stand is not recommended for 2012 DL650 Vstrom or FJR1300 motorcycles with ABS equipped. Must disconnect ABS sensor (5mm hex bolt) on late-model Hayabusa's. If your bike is not listed, no ABS fitting issues have been reported.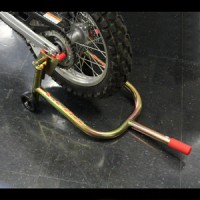 Dirt Bike Rear, Motorcycle Stand
The Dirt Bike Rear allows for lifting a variety of dirt bikes with few exceptions. Two rubber covered pegs on either side of the bike locate under the swingarms for support while a third peg . It's design allows peg on either side locates behind the swingarms to prevent slippage.
See the Fitting Notes tab to view bikes that we have confirmed fitment on. It's likely that this stand will fit other bikes with with similar swingarm designs. The primary interference we have seen comes from the clamshell adjusters found on some dirt bikes that protrude
below
the swingarms under the axle. If you're not sure whether this stand will fit your bike, give us a call or contact us via email.
This stand is based off of our Hybrid Front lower chassis so you can convert it to a front stand by adding the
Hybrid Swivels
or you can convert your existing Hybrid Front Stand to a Dirt Bike Rear by adding the Dirt Bike Swivels.
These swivels cannot be added to pre-2012(non-Hybrid generation) Pit Bull Front Stands(if your front stand is not height adjustable in the LOWER chassis, it's not the Hybrid model)