Proudly, defiantly made in the USA
Pit Bull is not only made in the USA... It's made BETTER in the USA. We never compromise quality and do not cut motorcycle stands into four pieces so they can cross the ocean for less. Ask anyone who has owned any motorcycle stands for a length of time... When you want the best, buy Pit Bull!
---
Pit Bull Helmet Holders!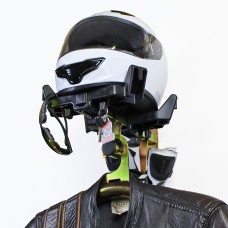 Pit Bull's new helmet holders can be used in your trailer, shop, or home to keep your helmet safe and secure. Our elite helmet holder kit even has places to store keys, glasses, gloves and our heavy duty leather hangers!