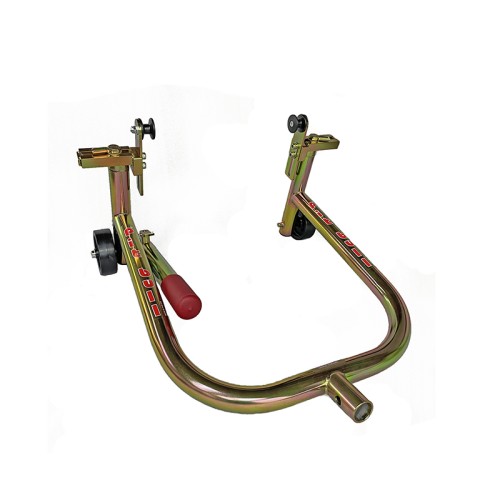 ---
Fully Adjustable Rear, Motorcycle Stand (GP)
$229.95
---
Product Code: F0082A-000:F0082A-200
Availability:

In Stock Ships within 1-2 business days

Instructions: F0082A-000.pdf
---
Fully Adjustable Rear Stand - height adjustable 13" - 16", width adjustable 8.75" - 14-5/8" with support plates to fit motorcycles featuring the inverted "V" GP .

This stand was designed to have considerable adjustment levels to cover almost any motorcycle using GP-style receivers mounted to the swingarms. The L-shaped bracket can be flipped up or down and depending on which way it is installed, you have a different range of adjustment:
UP Position: Height range 14"-16", Width range 8.75"-14-5/8"
DOWN Position: Height range 13"-15", Width range 9-3/8"-13-3/8"
This stand has height AND width adjustability and is available exclusively with a 16" removable handle. Other support plates are available to convert this stand to lift spooled swingarms(F0043-001) or non-spooled swingarms(F0042-001).
Height adjustable: 11.75" - 14.75"
Width adjustable: 9.625" - 14.5"
Does not fit 3rd gen Suzuki Hayabusa stock rear fender. At this time, the only option for the 3rd gen Busa with stock rear fender is the Forward Handle Rear Stand(F0043-000) and it should be noted that leverage is not very good even with that stand so the F0099AA-001 should be considered if you select that stand.
Related Products